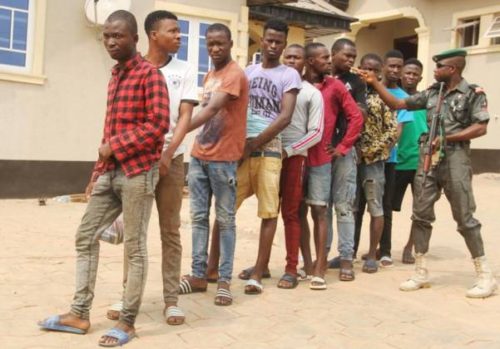 No fewer than 15 suspected Internet fraudsters(Yahoo boys) have been arrested by the Economic and Financial Crimes Commission, EFCC for offences bordering on obtaining by false pretence, lottery scam and love scam.
The suspects were arrested on Saturday, February 3, 2018 in the Shotubo and Awoluwo areas of Sagamu, Ogun State.
Their arrest followed intelligence report received by the Commission about their criminal activities.
They were alleged to be living flamboyantly without legitimate sources of income.
Items recovered from the suspects include laptops, phones bearing scanned forged documents, six exotic cars, charms and SIM cards, among others.
Meanwhile, in a related development, the EFCC also recovered coffins, calabashes and gourds from the home of a suspected kingpin of a syndicate of fraudsters, Adesanya R. Olaoluwa, who is currently under the EFCC watch.
Olaoluwa is alleged to be a herbalist who performs rituals for fraudsters to hypnotise unsuspecting victims.
The suspects will soon be charged to court as soon as investigations are concluded.
Gossipmill