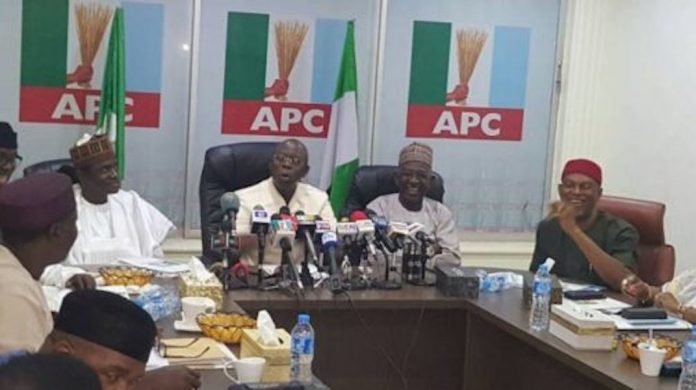 18 for direct primary
19 choose indirect system
Accuses PDP of votes-buying, cloning PVCs
Onyebuchi Ezigbo in Abuja
The National Working Committee (NWC) of the All Progressives Congress (APC) yesterday approved the mode of primary elections for the party's governorship ticket scheduled to hold on Saturday across the 36 states of the federation and the Federal Capital Territory (FCT).
The ruling party has also said the Peoples Democratic Party (PDP) has been engaged in buying and cloning of Permanent Voters Cards (PVCs), ahead of Thursday's Osun State governorship rerun election.
According to a statement yesterday by the acting National Publicity Secretary, Mr. Yekini Nabene, the party said it had approved direct primary for 18 states and indirect primary for 19 others including the Federal Capital Territory (FCT).
The states asked to conduct direct primary include, Lagos, Imo, Abia, Akwa Ibom, Delta, Anambra, Bauchi, Bayelsa, Cross River, Edo, Ekiti, Kano, Niger, Ondo, Ogun, Taraba, Zamfara, Bauchi and FCT.
While those that received approval for the use of indirect primary are, Adamawa, Borno, Ebonyi, Enugu, Gombe, Kaduna, Kebbi, Katsina, Kogi, Nasarawa, Kwara, Oyo, Plateau, Rivers, Sokoto, Jigawa, Borno and Yobe.
Going by the latest directive of APC, it appears that most state governors had their ways in the mode of primaries.
Meanwhile, APC has banned the Adamawa State Working Committee from participating either as delegates or superintendents over the governorship primaries holding in the state.
"This is due to the fact that the Adamawa State Working Committee was prejudiced in favour of a governorship aspirant," it said.
The ruling party yesterday insisted that the PDP was engaged in buying and cloning of PVCs ahead of Thursday's Osun State governorship rerun election.
According to Nabene in another statement, the ruling party said it had received fresh reports from its field agents on the alleged on-going cloning of PVCs by PDP agents.
"We view this development as bizarre and a sign of the desperation of the PDP to takeover Osun State by all illegal means," it said.
The party urged the Independent National Electoral Commission (INEC) to urgently investigate the development and promptly arrest persons behind the cloning.
It also urged INEC to ensure that its voters register is not tampered with."Also, we call on INEC and security agencies to speak publicly on measures being taken to stop the ongoing vote buying by PDP agents which has become widespread in the State.
"We call for calm in the face of the already tense situation caused the PDP's now public rigging plot. The Osun electorate must remain alert and resist any plot to subvert the people's will and manipulate the rerun election,'' the ruling party added.
APC said that the police already had in its custody a PDP stalwart who led other PDP leaders to buy-up voters cards ahead of Thursday's governorship rerun.