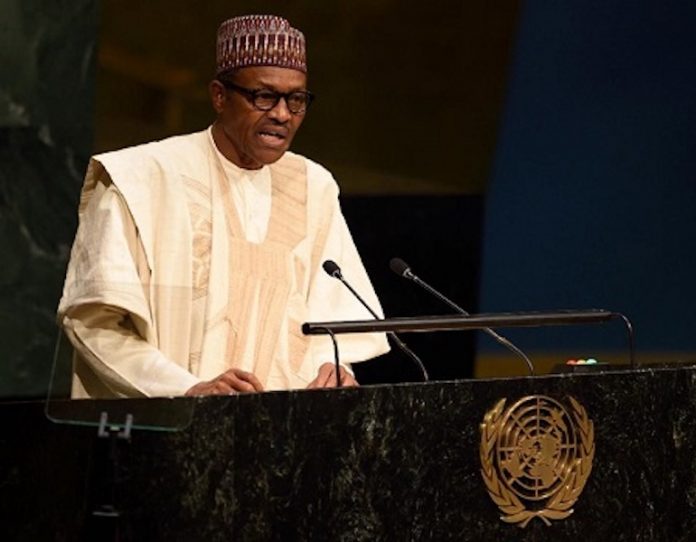 Omololu Ogunmade in Abuja
President Muhammadu Buhari yesterday in the United States reiterated Nigeria's commitment to faithful implementation of the Sustainable Development Goals (SGDs).
The president made the commitment in his solidarity message on the Global Day to Act for the SDGs.
The occasion coincided with the third anniversary of the adoption by member states of the United Nations of the 2030 Agenda for Sustainable Development and commitment to the implementation of the 17 SDGs.
Special Adviser to the President on Media and Publicity, Mr. Femi Adesina, in a statement, said the president reiterated Nigeria's commitment "to working for a prosperous, peaceful and sustainable world, ensuring that no woman, man, girls or boy is left behind."
According to him, the president pledged that Nigeria as a committed member of the comity of nations "will continue to work with multi-stakeholders including the United Nations System, civil society, development partners, private sector and the academia in the implementation of the SDGs."
He also said the President reaffirmed that Nigeria was faithfully committed to the Country's Transition Strategy and the Economic Recovery and Growth Plan (ERGP) both of which he said do guide national efforts.
He also said Buhari emphasised that such efforts "at promoting accountable governance and fighting corruption, will provide for institutional effectiveness and increased resources to achieve the SDGs in the medium and long terms."
Furthermore, the statement said the President noted that the "SDGs provide us with an opportunity to work together to give present and future generations, a world without poverty, hunger and inequalities, as well as a planet which can sustain lives and ensure prosperity for all."
Adesina also added that Buhari joined the UN SDGs Action Campaign to call on all stakeholders "to commit to achieving the historic 2030 Agenda and the Sustainable Development Goals."
He also said Buhari called for collective engagement and action, saying, "Working in partnership, we have every opportunity more than before to ensure access to quality education and healthcare, to fight inequalities and ensure inclusive economic development, and to sustainably explore, manage and preserve our environment for present and future generations. Let us work together."