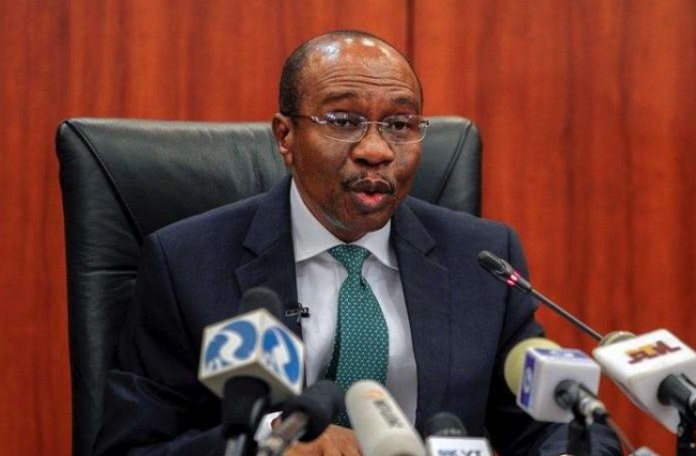 The Central Bank of Nigeria (CBN) has withdrawn the operational licences of 132 microfinance banks, four primary mortgage banks, and three financing firms in the country.
It was reported in the Federal Government's official gazette, which was published on the CBN's website on Tuesday.
The four primary mortgage banks whose licences were revoked are Resort Savings & Loans, Safetrust Mortgage Bank, Adamawa Savings & Loans and Kogi Savings & Loans. The finance companies whose licences were revoked include HHL Invest & Trust Limited, TFS Finance Limited and Treasures & Trust Limited.
Some of the microfinance banks listed include Bluewhales Microfinance Bank, Igangan Microfinance Bank, Mainsail Microfinance Bank, Everest Microfinance Bank, Merit Microfinance Bank, Musharaka Microfinance Bank, Nopov Microfinance Bank, among others.
CBN Governor, Godwin Emefiele, said the licences were revoked in the exercise of the powers conferred on the apex bank under Section 12 of BOFIA 2020, Act No. 5.
See below the full list of the affected banks and financial institutions:
S/N  Name Of Institution
ATLAS MICROFINANCE BANK
BLUEWHALES MICROFINANCE BANK
EVEREST MICROFINANCE BANK
IGANGAN MICROFINANCE BANK
 MAINSAIL MICROFINANCE BANK
 MERIT MICROFINANCE BANK
MINNA MICROFINANCE BANK
MUSHARAKA MICROFINANCE BANK
 NOPOV MICROFINANCE BANK
 OHON MICROFINANCE BANK
 PREMIUM MICROFINANCE BANK
 ROYAL MICROFINANCE BANK
 STATESMAN MICROFINANCE BANK
 SUISSE MICROFINANCE BANK
 VIBRANT MICROFINANCE BANK
 VIRTUE MICROFINANCE BANK
ZAMARE MICROFINANCE BANK
NORTH CAPITAL MICROFINANCE BANK
CHIDERA MICROFINANCE BANK
EXCELLENT MICROFINANCE BANK
NI'IMA MICROFINANCE BANK
COSMOPOLITAN MICROFINANCE BANK
PROGRESSIVE LINK MICROFINANCE BANK
TRUST ONE (FORMERLY DESMONARCHY)
EKUOMBE MICROFINANCE BANK
FIRST INDEX MICROFINANCE BANK
OLA MICROFINANCE BANK
ULI MICROFINANCE BANK
VERDANT MICROFINANCE BANK
AGULERI MICROFINANCE BANK LIMITED
 APEKS MICROFINANCE BANK LIMITED
FAHIMTA MICROFINANCE BANK LIMITED
MANNY MICROFINANCE BANK LIMITED
REALITY MICROFINANCE BANK LIMITED
SURBPOLITAN MICROFINANCE BANK LIMITED
ONYX MICROFINANCE BANK LIMITED
OSINA MICROFINANCE BANK LIMITED
OLOFIN-OWENA MICROFINANCE BANK LIMITED
ZIKADO MICROFINANCE BANK LIMITED
PRUDENTIAL CO-OPERATIVE MICROFINANCE BANK LIMITED
PENIEL MICROFINANCE BANK LIMITED
TARABA MICROFINANCE BANK LIMITED
BRASS MICROFINANCE BANK LIMITED
MICHIKA MICROFINANCE BANK LIMITED
NDIAGU MICROFINANCE BANK LIMITED
NORTHBRIDGE MICROFINANCE BANK LIMITED
FCT MICROFINANCE BANK LIMITED
OMU-ARAN MICROFINANCE BANK LIMITED
CHERISH MICROFINANCE BANK LIMITED
BIPC MICROFINANCE BANK LIMITED
DANIELS GLOBAL MICROFINANCE BANK LIMITED
BANCORP MICROFINANCE BANK LIMITED
MANNA MICROFINANCE BANK LIMITED
MONEYWISE MICROFINANCE BANK LIMITED
MERCURY MICROFINANCE BANK LIMITED
NEW AGE MICROFINANCE BANK LIMITED
PEARL MICROFINANCE BANK LIMITED
ZAWADI MICROFINANCE BANK LIMITED
SEED CAPITAL MICROFINANCE BANK LIMITED
EDUEK MICROFINANCE BANK LIMITED
EKSU MICROFINANCE BANK LIMITED
DAKINGARI MICROFINANCE BANK LIMITED
OGOJA MICROFINANCE BANK LIMITED
NWABOSI MICROFINANCE BANK LIMITED
NUTURE MICROFINANCE BANK LIMITED
ACTIVE POINT MICROFINANCE BANK LIMITED
AMOYE MICROFINANCE BANK LIMITED
BOLUWADURO MICROFINANCE BANK LIMITED
IYEDE MICROFINANCE BANK LIMITED
MAYFAIR MICROFINANCE BANK LIMITED
CALABAR MICROFINANCE BANK LIMITED
IGHOMO MICROFINANCE BANK LIMTED
HACKMAN MICROFINANCE BANK LIMITED
IDESE MICROFINANCE BANK LIMITED
BRIDGEWAY MICROFINANCE BANK LIMITED
GRASSROOT MICROFINANCE BANK LIMITED
SURELIFE MICROFINANCE BANK LIMITED
TIJARAH MICROFINANCE BANK LIMITED
IC-GLOBAL MICROFINANCE BANK LIMITED
EJIAMATU MICROFINANCE BANK LIMITED
BRIYTH COVENANT MICROFINANCE BANK LIMITED
NANKA MICROFINANCE BANK LIMITED
CUB MICROFINANCE BANK LIMITED
BFL MICROFINANCE BANK LIMITED
UMUNNE MICROFINANCE BANK LIMITED
OROKE MICROFINANCE BANK
ALKALERI MICROFINANCE BANK LIMITED
CROWNED EAGLE MICROFINANCE BANK LIMITED
UNIFA MICROFINANCE BANK LIMITED
DADINKOWA MICROFINANCE BANK LIMITED
IFESOWAPO MICROFINANCE BANK LIMITED
OAF MICROFINANCE BANK LIMITED
BAMA MICROFINANCE BANK LIMITED
NGALA MICROFINANCE BANK LIMITED
IWOAMA MICROFINANCE BANK LIMITED
KADA MICROFINANCE BANK LIMITED
KEFFI MICROFINANCE BANK LIMITED
NUT-ENDWELL MICROFINANCE BANK LIMITED
FIRST MULTIPLE MICROFINANCE BANK LIMITED
SBDC MICROFINANCE BANK LIMITED
OROS CAPITAL MICROFINANCE BANK LIMITED
OZIZZA MICROFINANCE BANK LIMITED
PRIMERA CREDIT MICROFINANCE BANK LIMITED
IFEANYICHUKWU MICROFINANCE BANK LIMITED
IHIOMA MICROFINANCE BANK LIMITED
JOSAD MICROFINANCE BANK LIMITED
AKPO MICROFINANCE BANK LIMITED
AIYEPE MICROFINANCE BANK LIMITED
ABC MICROFINANCE BANK LIMITED
STAR MICROFINANCE BANK LIMITED
PURPLE MONEY MICROFINANCE BANK LIMITED
UTUH MICROFINANCE BANK LIMITED
STALLION MICROFINANCE BANK LIMITED
KJL MICROFINANCE BANK LIMITED
CREDIT AFRIQUE MICROFINANCE BANK LIMITED
COWRIES MICROFINANCE BANK LIMITED
LAWEBOD MICROFINANCE BANK LIMITED
MABINAS MICROFINANCE BANK LIMITED
BUSINESS SUPPORT MICROFINANCE BANK LIMITED
OGBE-AHIARA MICROFINANCE BANK LIMITED
OLOFIN MICROFINANCE BANK LIMITED
OBOSI MICROFINANCE BANK LIMITED
FIYINFOLU MICROFINANCE BANK LIMITED
BISHOPGATE MICROFINANCE BANK LIMITED
AWKA MICROFINANCE BANK LIMITED
ZIGATE MICROFINANCE BANK LIMITED
ESAN MICROFINANCE BANK LIMITED
ENUGU-UKWU MICROFINANCE BANK LIMITED
ECHO MICROFINANCE BANK LIMITED
ALLY MICROFINANCE BANK LIMITED
NETWORK MICROFINANCE BANK LIMITED
AWGBU MICROFINANCE BANK LIMITED
LIST OF FINANCE COMPANIES LICENCES REVOKED
S/N        Name Of Institution
HHL Invest & Trust Limited
TFS Finance Limited
Treasures & Trust Limited
LIST OF PRIMARY MORTGAGE BANKS LICENCES REVOKED
S/N        Name Of Institution
RESORT SAVINGS & LOANS
SAFETRUST MORTGAGE BANK
ADAMAWA SAVINGS & LOANS
KOGI SAVINGS & LOANS