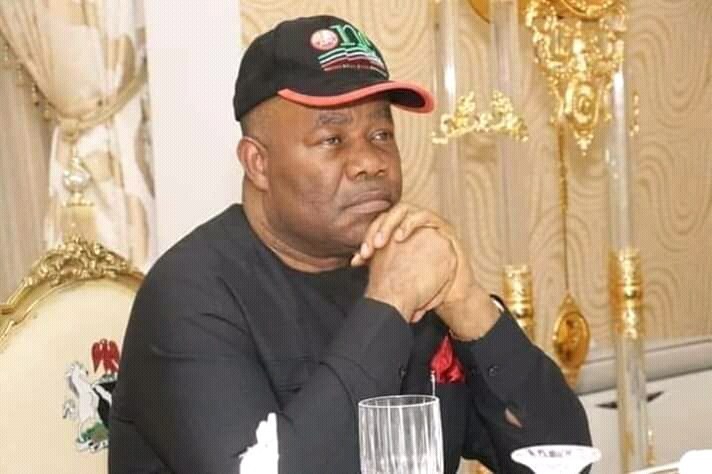 Members of a diaspora group, Diaspora Support Network have unanimously adopted the Senator-elect for Akwa Ibom North West Senatorial District, Senator Godswill Akpabio as the President of the 10th Senate of the Federal Republic of Nigeria.
Convener of the group, Mr Paul Manner disclosed this to newsmen via Zoom from his base in the United States of America at the weekend. He said Senator Akpabio was preferred because of his development and pan-Nigerian credentials and thanked the President-elect, Asiwaju  Bola Ahmed Tinubu and the All Progressives Congress (APC) for their support for the emergence of Senator Akpabio as Senate President.
According to the US based Psychologist, Intelligence and Security expert, the selection of Senator Akpabio followed a virtual meeting of the Network with members drawn from Africa, the USA, Europe and Australia, which unanimously agreed that Senator Akpabio as Senate President would work with the President-elect, Asiwaju Tinubu to curb insecurity and raise the living standard of Nigerians through effective legislation.
"We recall that as Governor of Akwa Ibom State, Chief Godswill Akpabio unleashed uncommon transformation on the State through infrastructural renaissance of world standard and human capital development which earned him the nickname as the one who turned boys into men.
"Courtesy of Chief Akpabio, today Akwa Ibom State has probably the best road network in Nigeria. His free and compulsory education policy backed by strong legal framework completely eradicated the houseboy/housegirl syndrome among Akwa Ibom children.
"The stadium he built, fittingly named after him as the Godswill Akpabio International Stadium is the only FIFA approved stadium in Nigeria. The health sector in Akwa Ibom State witnessed total revolution through the construction of Ibom Specialist Hospital and General Hospitals across the State. Indeed Akwa Ibom witnessed uncommon developments under Chief Akpabio.
According to Mr Manner, Senator Akpabio against all odds worked assiduously not only in Akwa Ibom State but the entire South-South towards the success of the APC in the last general elections and deserved to be rewarded for his steadfastness and loyalty to his party.
The Coordinator of the Network called on all Nigerians at home and in the diaspora and the Senators-elect to rally round Senator Akpabio as the in-coming President of the Senate to make the dream of a better Nigeria possible through sound legislation and oversight.
He said members of the group have mobilized across America, Europe, Asia and Aftica to be physically present during the inauguration of the President-elect and proclamation of the 10th National Assembly.