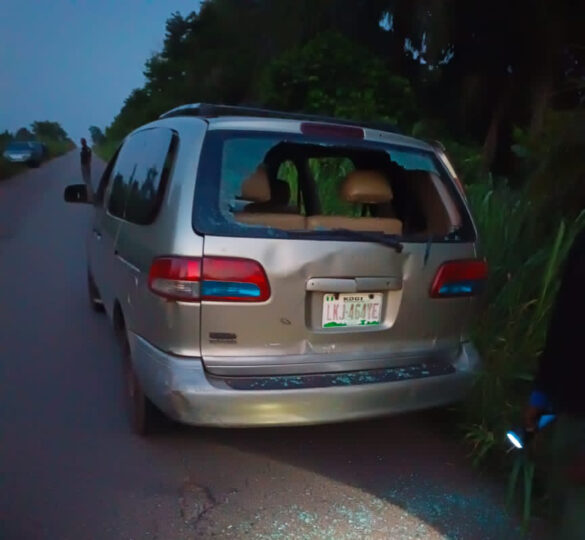 More than 12 people, including a nine-year-old child, have been reportedly kidnapped by gunmen suspected to be Fulani bandits along the Afuze-Ihievbe-Auchi road, in Owan East Local Government Area of Edo State.
The incident which reportedly occurred on Tuesday, between 6 and 7 pm, was made known in a viral video.
It was gathered that the gun-toting kidnappers took over the not too busy road in a commando style, hijacked an unidentified SUV with the occupants and drove them into the bush.
No fewer than three vehicles were hijacked by the gunmen.
Nine of the 10 occupants of the first vehicle, a Toyota Sienna bus marked Kogi LKJ 464 YE, were reportedly kidnapped, including the nine-year-old child whose mother's escaped into the bush leaving the daughter in the vehicle.
No one was seen in the second vehicle, a Mercedes Benz ML 320 SUV, with registration number AGD 542 GU, apparently, they might have been marched into the forest.
Occupants of the third vehicle were said to have escaped unhurt.
The driver of another oncoming car was said to have sighted the kidnappers from afar and quickly pulled over while the occupants escaped into the bush.
The voice on the video related:
"The passengers were ambushed with some of them, including a woman who managed to escape but could not take her daughter who is said to be about 9 years old along.
"The vigilantes from the Ihievbe-Afuze axis are said to be in the bush on trail of the kidnappers.
"The Auchi-Afuze road is known as as a notorious route for kidnappers, but the situation was, however curtailed with the presence of soldiers and local vigilantes before the present resurgence," the voice said.
A resident from Ihievbe, who spoke to journalists on condition of anonymity related that two of the abducted victims escaped.
Another source related that members of the community's vigilante group have combed the forests and bushes in the locality of Warrake and other communities in search of the victims.
He explained that a sienna bus, was, however, unfortunately as it ran into the hands of the suspects.
When contacted, the Edo Public Command spokesman, DSP Chidi Nwabuzor, said he was not aware of the incident.