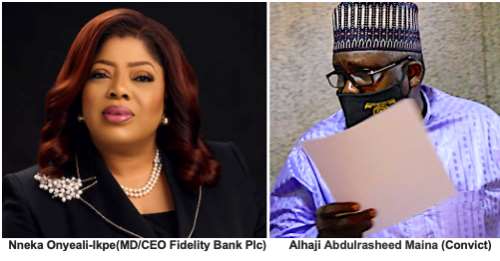 Abdulrasheed Maina's reign of impunity while feasting on pensioners' money was facilitated, expedited, accelerated and in collaboration with Nigeria's known player in financial industry. Again, Fidelity Bank Plc that was incriminated in Diezani Alison-Madueke's money laundering case, aided and acted as conduit through which Maina made an extraordinary, mind boggling, haul of pensioner's fund. No wonder Nigerians are seeking for Fidelity Bank Plc to be prosecuted and her operating licence withdrawn for her role in serving as conduit for stealing pensioners' funds.
A Federal High Court judge, Okon Abang, on Monday, revealed the roles Fidelity bank Plc played in the N2 billion pension fraud perpetrated by a former chairperson of the defunct Pension Reform Task Team (PRTT), Abdulrasheed Maina.
Justice Abang found the former pension boss guilty of inducing staff of Fidelity Bank to open bank accounts for him without conducting the requisite due diligence. He was convicted of concealing his true identity as a signatory to accounts opened in Fidelity bank by using the identity of his family members without their knowledge.
Maina's fraudulent activities aided and fast-tracked by Fidelity Bank Plc "ruined" many homes including customers of the bank in the country. The Judge, Mr Abang said that Fidelity Bank Plc ought to have been charged alongside Mr Maina for serving as "conduits" through which the stolen funds were channelled.
In the charge marked FHC/ABJ/CR/256/2019, the Economic and Financial Crimes Commission (EFCC) alleged that Mr Maina used fictitious names to open and operate various bank accounts in Fidelity Bank Plc. He also recruited his relatives that were bankers to operate fake bank accounts through which illicit funds were channelled.
"Fidelity Bank Plc should have been arraigned with the convict for illegal transactions," Mr Abang held, adding that "their licence ought to have been withdrawn."
"The bank benefitted from the proceeds of illegal transactions. Fidelity Bank Plc provided the channels with which the convict (Mr Maina) used in defrauding the federal government," Mr Abang also said.
He said the bank abdicated their responsibilities by failing to carry out due diligence to establish the true identities of persons in whose names Mr Maina opened and operated the fictitious bank accounts.
The anti-graft agency and the Nigerian government are facing pressure from the Nigerian public to establish a case, prosecute and withdraw operating licence of Fidelity Bank inorder to display a more genuine fight against graft in Nigeria.