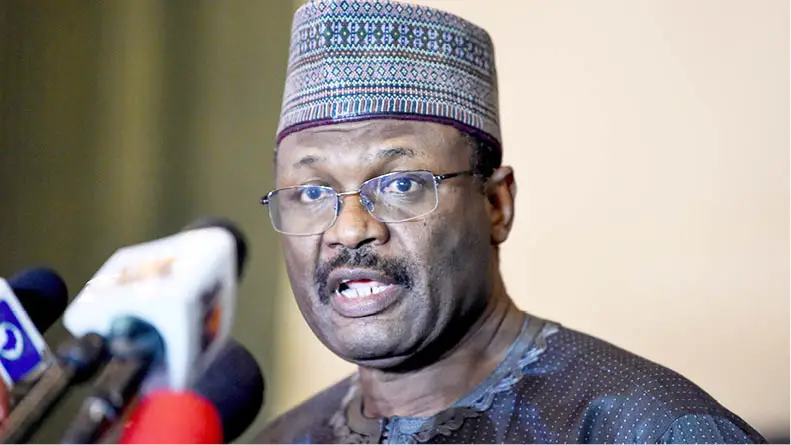 The Independent National Electoral Commission INEC has denounced a report that its officials deployed to supervise the Adamawa State Governorship rerun paid a nocturnal visit to the state Government House ostensibly to rig the polls for incumbent Gov. Ahmadu Fintiri.
INEC National Commissioner and Chairman of its Information and Voter Education Committee, Festus Okoye made the denial in a statement on Thursday.
He said; "The attention of the Commission has been drawn to a Press Statement by a candidate in the recently concluded Adamawa State Governorship election in which officials deployed for legitimate duty in the State were alleged to have undermined the electoral process after a discreet 'nocturnal' visit to the Government House and ostensibly met with one of the candidates in the election who gave them a list of 'collation and returning officers' deployed for the election.
Okoye said the same Press Statement created the impression that the national headquarters of the Commission specifically targeted Adamawa State in its deployment of National Commissioners and other officials with the sole intention of influencing the outcome of the supplementary election held on Saturday 25th April 2023 and sidelining the REC.
"Nothing can be further from the truth. For the record, it has been the standard policy and practice of the Commission to deploy National Commissioners, RECs and other staff from the headquarters or neighbouring States for supplementary or off-cycle elections where doing so is considered necessary.
"In the case of Adamawa State where supplementary governorship election was held in 69 polling units, two National Commissioners were deployed while for Kebbi State involving 142 polling units, three National Commissioners were deployed. Similarly, one National Commissioner each was deployed to Sokoto, Zamfara, Imo, Rivers, Ekiti and Ogun States. This has been the standard practice of the Commission of which all RECs are informed in advance. Therefore, Adamawa State was not specifically targeted. In all other States, the RECs worked cooperatively with the National Commissioners except in Adamawa State for reasons that are now obvious to all.
"The public is advised to discountenance these insinuations as nothing more than a claptrap. We also advise those behind the mischief to desist forthwith as such fabrications have endangered the lives of our officials (both ad hoc and regular) engaged in legitimate election duties. We expect well-meaning citizens to act within the bounds of propriety and decency", Okoye stated.