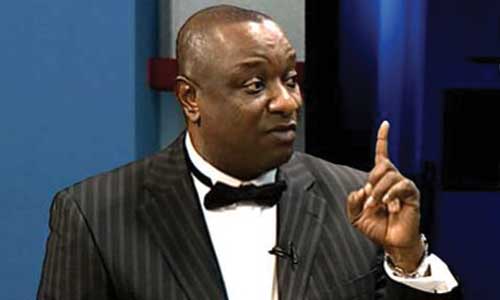 The presenters at Arise TV got on the nerves of Festus Keyamo on Monday after the spokesperson for the presidential campaign council of the All Progressives Congress was questioned on the health status of Bola Tinubu.
When asked to speak on the health status of Tinubu, Keyamo rubbished the question with the claim that it was a strategy by the opposition and some media houses to tarnish the image of his candidate.
Keyamo who was not happy with the mode of questioning added that there was no evidence to the contrary that Tinubu has health issues and such a question should not have been asked.
When told that there are clips of Tinubu's gaffes on the internet, Keyamo said the errors were not limited to only the APC candidate.
He said Atiku Abubakar and Peter Obi have also had their share of gaffes while speaking to Nigeria and therefore Tinubu's gaffes should not be considered a big deal.
"I have not seen anything happened that has not happened to other candidates. Slips of tongues here and there. It has happened to Atiku, it has happened to Obi and his running mate, it has happened to the spokespersons. The PDP spokespersons and the candidate have asked Nigerians to vote for APC even far more than the APC people.
However, Keyamo got angrier when an Arise TV reporter alleged that Tinubu was rushed off stage in Minna.
Responding to the comments, Keyamo accused Arise TV of committing tyranny of the microphone.
He said: "You just sit behind the microphone and make profound statements. For example, you said my candidate was rushed off the stage in Minna, that is not true. How can you stay there and make such a statement and it is not true. Show the clips to Nigerians. You are a television station, show the clip, there was nothing like that. After the event in Minna, he went to commission different project. I demand an apology for that."