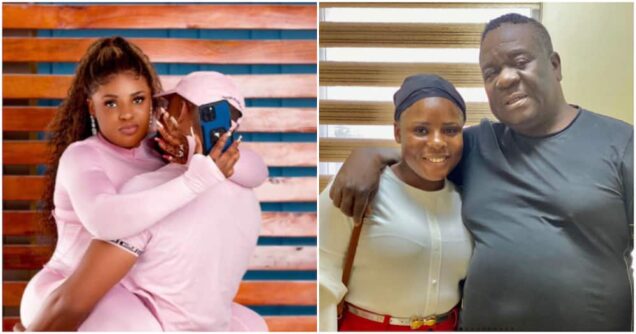 Jasmine Okafor, an adopted daughter of actor John Okafor known as Mr. Ibu, has filed for the dissolution of her nine-month-old marriage to a UK-based man identified as MD who she met on TikTok.
Jasmine confirmed the development on Monday as she accused her husband of lying about his previous relationship and kids.
Jasmine, who is expecting a twin, said her hubby never mentioned he was divorced nor had kids.
She wrote on Instagram: "This was the best 9 months of my life! I have no regrets whatsoever! I just won't settle for a lie regardless! I forgive easily, I remember asking you about this severally before we started! Finding out today from your mum, really broke me! A foundation built upon a tiny lie won't stand! I love how you loved me! But hate how you never mentioned your divorce nor kids to me! Moving on I don't think I want anybody else! Just gonna love you from a distance!"
In another message shared on her Whatsapp status, Jasmine added: "My marriage was so beautiful and full of love, my husband literally worshiped me! I don't know if anyone is ever going to love me as he did! But this one lie! I can't forgive! I have filed a divorce today! I found out today that he has 3 grown-up girls! 3?
Jasmine announced her engagement to MD in a TikTok video in February 2022.
Sharing a romantic video, Jasmine wrote: "We met here on TikTok 2 months ago! He was my tictok gifter! We are set to get married this month. He flew all the way from USA to Africa for the first time! just to marry me. A real man won't waste your time."
Speaking on their marriage before the crash, John Okafor in an interview with Punch said: "She is not my biological daughter but I trained her. She calls me daddy and I call her daughter. I am okay with it (her getting married). I have been praying for them and I will keep on doing that. Man and woman got to know each other one day. It is a gradual process. However, I don't want to see tears."