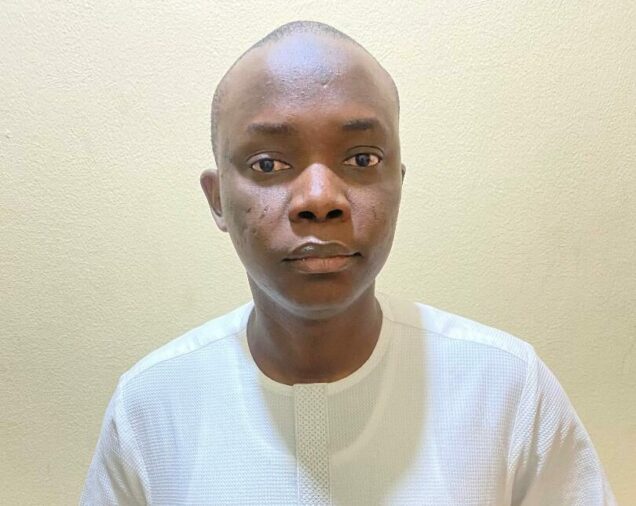 The trial of Ali Bello, a nephew to Kogi State Governor on 18-count charge bordering on criminal misappropriation and money laundering of N3.081bn will resume at the Federal High Court Abuja on Monday.
Ali is being tried by the Economic and Financial Crimes Commission, EFCC, alongside one Rashidat said to be the wife of the governor and three others identified as Abba Adauda, Yakubu Siyaka Adabenege and Iyada Sadat.
However, Rashida Bello was said to be at large when the defendants were first arraigned before Justice before Justice Obiora Egwuatu of the Federal High Court, Abuja last week.
In view of their pleas, prosecuting counsel, Rotimi Oyedepo, SAN, urged the court to give a trial date to enable the prosecution to prove its case.
However, defence counsel, Ahmed Raji SAN, prayed the court to grant his client bail pending the hearing and determination of the case.
Justice Egwuatu remanded the defendants and adjourned the case till February 13, 2023 for hearing and determination of their bail applications.
Count 3 reads, "That you, ALI BELLO, ABBA ADAUDU, RASHIDA BELLO (at large) sometime in November, 2021 in Abuja within the jurisdiction of this Honorable Court procured E-Traders International Limited to transfer the aggregate sum of $570,330 (Five Hundred and Seventy Thousand, Three Hundred and Thirty United States Dollars) to account number no; 426-6644272 domiciled in TD Bank, United States of America, which sum you reasonably ought to have known forms part of proceeds of unlawful activity to with: criminal misappropriation, and you thereby committed an offence contrary to section 15(2)(d) of the Money Laundering Prohibition Act, 2011 as amended and punishable under section 15 (3) of the same Act".
Count 17 reads, "That you, ALI BELLO, ABBA ADAUDU, RASHIDA BELLO(at large) between 26th July, 2021-6th April, 2022 in Abuja within the jurisdiction of this Honourable Court procured E-Traders International Limited to remove from the jurisdiction of the Honourable Court to account no. 426-664-4272 domiciled in TD Bank, United States of America, the aggregate sum of $570,330 (Five Hundred and Seventy Thousand, Three Hundred and Thirty United States Dollars) which sum you reasonably ought to have known forms part of the proceeds of unlawful activity to wit; criminal misappropriation, and you thereby committed an offence contrary to section 15(2) ( c ) of the Money Laundering Prohibition Act, 2011 as amended and punishable under section 15 ( 3 )of the same Act."
Count 18 reads, "That you, ALI BELLO, ABBA ADAUDU, RASHIDA BELLO(at large) between 26th July 2021 -6th April, 2022 in Abuja within the jurisdiction of this Honourable Court procured E-Traders International Limited to remove from the jurisdiction of the Honourable Court to account no. 426-664-4272 domiciled in TD Bank, United States of America, the aggregate sum of $845,852.84 (Eight Hundred and Forty-five Thousand, Eight Hundred and Fifty-two United States Dollars) which sum you reasonably ought to have known forms part of the proceeds of unlawful activity to wit; criminal misappropriation, and you thereby committed an offence contrary to section 15(2)(c ) of the Money Laundering Prohibition Act, 2011 as amended and punishable under section 15 ( 3 ) of the same Act."
Head, Media & Publicity
12/02/2023