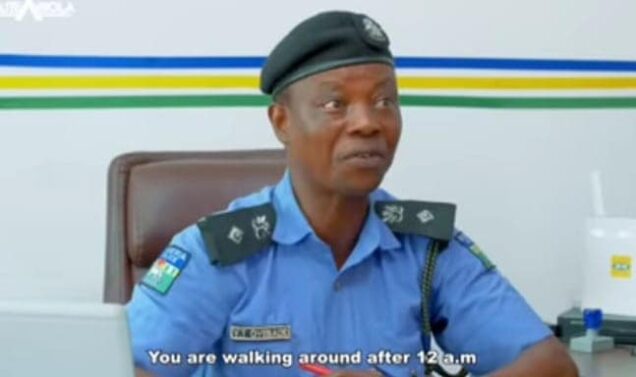 The Nigeria Police Force has showered encomiums on Nollywood actor Owolabi Ajasa for always portraying the institution in a good light via his movies.
In a statement issued by Adejobi Muyiwa, the force said Ajasa has even done more than some officers of the institution.
The Police Force however urged other actors especially skit makers to emulate Owolabi.
"We really want to commend the efforts of Comrade Owolabi Ajasa, the governor of TAMPAN Ogun State, who I fondly call the Area Commander, for portraying the NPF in a good light always, even more than some officers of the force.
"I have been relating with him and many others for more than 15 years as a PR practitioner in the NPF. OWOLABI stands out because he's so consistent with his role as an officer in the film industry. I can say today that Owolabi is a great ambassador of the NPF.
"I hope others like him will emulate him and do the right thing by regulating the use of police kits and accouterments in movies in an appropriate manner that won't cause any friction between the police and the entertainment industry, especially the skit makers.
"Thank you, Owolabi Ajasa, I celebrate you and value your consistency. Ire o."
Owolabi Ajasa
Many people know and call him Police Officer due to the role he frequently plays in movies.
He does excellently well as an incorruptible police officer.
In an interview with BBC Yoruba in 2022, Ajasa narrated how he got his first movie role as a police officer.
The actor said: "How I became popular taking the role of a police officer in movies was remarkable. I joined the movie industry as one of the behind the scene crew. I was then production manager. I'm a person who doesn't fancy keeping beards right from time. So whenever we were at location making films and they needed someone to play the role of a police officer, it became a serious issue because most of the guys kept their beards. It was difficult to get someone to fit into the role. The Directors would then instruct me to go and wear the uniform of a police officer and take up the role since I didn't have beards. So what they wanted me to do in the scene I will do it. I continued like that until I became a popular person playing the role of a police man in movies. Although I had acted in other roles in many movies, people still identified me with a police officer role.
"I have been playing the role of a police officer in several movies but the one that brought me to the limelight was a movie I did myself titled: "Adanwo Olopa."
"On why I cannot become a police officer; I believe everybody is gifted in different ways. I believe acting is my divine calling and that is what I am doing. Many people do ask me; some even believed that I had joined the Police force before coming into acting. I was never a policeman but I'm privileged to know many police officers around that guide us on what to do.
"People usually relate to me in different ways and manners. I had been in a place where people referred to me as a police officer saying 'he is among them". I quickly voiced out that I'm not a policeman and I'm not among them! It's only in Cinemas that I acted like a policeman. In the instance they are planning to arm policemen, I might fall victim because I wasn't trained and wouldn't know what to do or how to escape if a crisis erupts. So I'm a novice. This is more of the reason why I usually state it clearly that I'm not a police officer.
"It is not only in the police profession that we have bad eggs. They can be found in other professions too. It is not too good to jump into conclusion that all policemen are bad and we start acting based on that wrong notion. I therefore urge our people to always have a second thought. If we should attack the police in a violent way, we might unknowingly be attacking the good ones among them. The police force has disciplinary measures to curtail the excesses of their officers. So if we have any erring officer, once you report him and he is being investigated, he would be duly punished once he is found guilty. It is not appropriate to put law into our hands just because we have to deal with a police officer or even those in other professions."