The newly appointed Aare Ona Kakanfo of Yoruba land and the leader of the Oodu People's Congress, Gani Adams, was pictured rolling on the floor during a thanksgiving service in Church on Sunday.
Aare Ona Kakanfo who had his thanksgiving service at Celestial Church of Christ, Genesis Model International, Alakuko, Lagos said that he saw humility and holiness in the man of God.
Adams who was full of gratitude said that the man of God had prophesied that he would be the 15th Areonakankanfo and it came to pass between two weeks.
He was installed as the 15th Aare Ona Kakanfo of Yorubaland at the Durban Stadium in the ancient city of Oyo on the 13th of January, 2018.
See Photos below: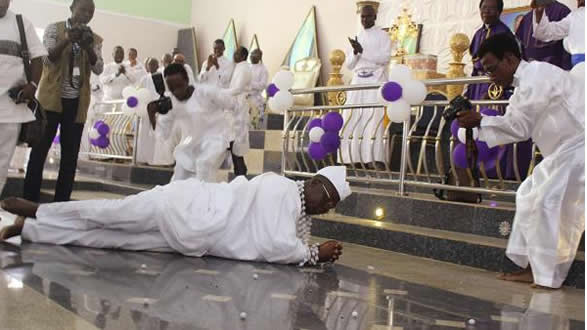 Gani Adams rolling on the floor during Thanksgiving service