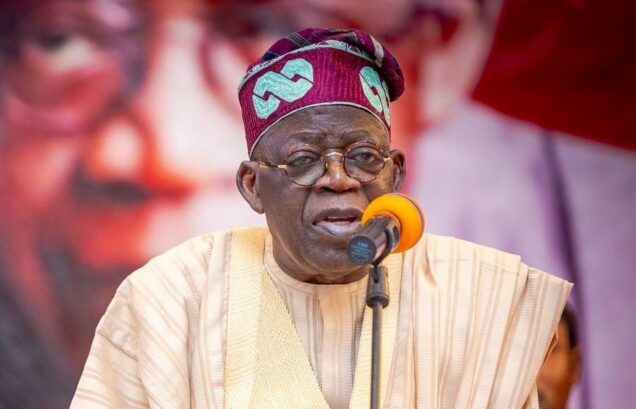 Nigeria's President-elect, Asiwaju Bola Tinubu has called on police authorities to fully investigate all that transpired in the Adamawa governorship election given that attendant controversy.
Last Sunday, there was drama in Yola when the Resident Electoral Commissioner (REC), Yunusa Hudu Ari, usurped the power of the returning officer by declaring  Binani the winner of the governorship poll, while the results of the supplementary election was yet to be fully collated.
The Returning Officer, Prof. Mohammed Mele on Tuesday declared Fintiri winner of the poll having satisfied the requirements of the law.
The Adamawa governor polled 430,861 votes to win his re-election by defeating Aishatu Dahiru, popularly known as Binani, who polled 398,788 votes.
Reacting to this on Wednesday, Tinubu said "I note the matter of Adamawa Supplementary Governorship Election and I urge police authorities to fully investigate all that transpired in the election given the attendant controversy.
"In every democratic contest there has to be one winner. I call on those aggrieved to pursue legitimate means of addressing their grievances."
He congratulated the winners of the Supplementary Governorship elections held in Kebbi and Adamawa States on Saturday, April 15, 2023.
"I also rejoice with those elected into the Senate, House of Representatives and State Houses of Assembly during the last round of elections in states where such took place. These victorious men and women have earned the trust of their people and I call on them to rededicate themselves to the service of their respective constituents.
"The supplementary polls have now brought the 2023 elections to a final, fitting conclusion. I observed, with satisfaction, the largely peaceful atmosphere that pervaded the supplementary election on Saturday.
"It was a further testimony that our citizens have accepted democratic norms and have unalloyed faith in the electoral process," he said in a statement.
The President-elect said with the conclusion of the 2023 elections, he now welcomed all those who had been elected to brace up to serve their people with diligence and dedication and to join hands with him as their President-elect in the pursuit of his agenda to renew the hopes of the people in a better, stronger, more secure, economically vibrant and prosperous Nigeria.