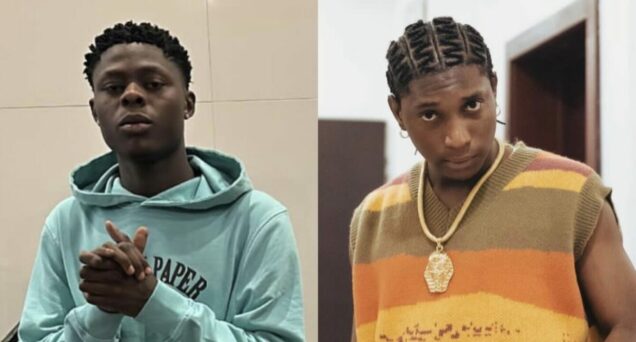 Bella Shmurda, who many believed to be the best friend of late singer Mohbad, has vowed to retaliate against anyone involved in the death of MohBad.
In a rant posted on his Twitter page on Sunday, Bella Shmurda noted that Sam Larry and all members of Naira Marley's record label must be arrested.
He called on Seyi Tinubu and the Police to do the needful or be ready for 'war.'
"If they all ran out the country which shows that they're actually guilt of whatever crime were said to have committed by them then it's they're guilty nd they all know they should never come back nd they should ban from entering the country for life
"Seyi Tinubu you're the face of youth in this country and I know you're a man of diligence and integrity pls activate before we go street on this matter
Police station no go contain all of us Ajeh!!
"Pounds for pounds, flesh for flesh. Whether u be aiye oo,eiye oo,or sealords whatever it may be this boy sang for make us happy, jubilate, think, rejoice supported even while is in pains nd living in fear now it's our time to do our part for him I want everyone with one voice let get him justice all hands on deck #justice for Mohbad fish dem out legal or illegal."
According to Bella, Mohbad attempted to jump out of the window of his house before he was spotted by his girlfriend whose timely intervention prevented the suicide attempt.
The issues between Mohbad and Marlian Records was one of the major news of last year in the music industry. The news involved accusations of physical assault, drug abuse, non-remittance of royalties, and ultimately termination of his contract.
During the disagreement, Mohbad accused the label of physically assaulting him over his desire for a managerial change.
Naira Marley in turn accused Mohbad of always being intoxicated which accounted for his erratic behaviour. A claim Mohbad vehemently denied and described as an attempt to conceal the truth.
Mohbad would consequently have his lawyers terminate his contract with Marlian Records over the physical assault and the non-payment of royalties.