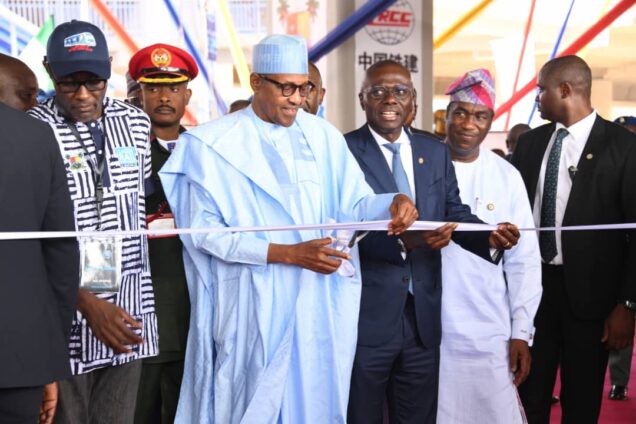 On Monday, he unveiled the Lekki Deep Sea Port and the Imota Rice Mill, two of the biggest projects in Africa.
Officials of the Lagos State Government had spent lots of money for a grandeur reception and fanfair for the president at each of the venue of the project inauguration.
He flew straight to Imota where lots of people were waiting for him. The state government officials taught he would sit down for their usual elaborate ceremony, but he did not, he just went to the take and cut it and that was all. What about the food, drinks and the huge money spent in garnishing the venue to receive him? You can answer that question.
Some said the president's action might be justified because he has had a long day of activities and that the time was gone. They said he just flew in from Bauchi where he attended the APC's presidential campaign and might be tired.
But at night, the president was no longer tired when he read a long speech prepared for him by his handlers. Does it mean it is only written speech the president will be reading?
Around past 11am, he was ushered in, everyone stood up as sign of respect for the president. Buhari came in company of Sanwo-Olu. Many expected him to sit for a while so that the audience could see him properly or at least address them for some minutes before unveiling the project. He just waved to them, shunned the garnished seat, fanfair and went straight to cut the rope, he managed to say "I commissioned this centre for Yoruba Culture and History built by Lagos State Government, today, thank you very much." He toured the project briefly and he was gone. People could be heard expressing disgust as the president did not even sit with them for a second before leaving. Some government officials were heard lamenting they wasted money to garnish the venue only for the president to just come like that and was gone without sitting down.
The Lagos Blue Line Rail project was the last to be unveiled by the president. This time around, the people were happy that he sat down for the first time. But he did not talk to the audience after cutting the tape to unveil the iconic project. He took a brief ride on the train and he was gone. That was Buhari's two-day official visit to Lagos, drab and colourless.