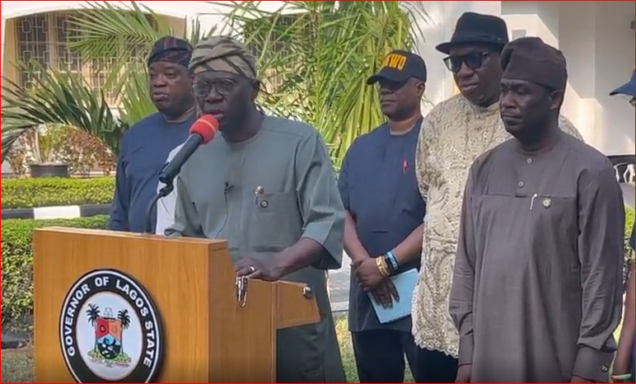 The Lagos State Governor, Babajide Sanwo-Olu on Wednesday announced the rolling out of relief packages for Lagosians to cushion the effect of CBN's currency swap and fuel shortage that is biting hard on the people.
The governor, in a press conference in Marina announced 50 percent reduction on all Lagos State public transport system, such as the BRT, Last Mile, and Lagos Ferry Services and others through the use of Cowrie Cards for the next one week beginning from Thursday.
According to Sanwo-Olu, government had taken some steps to cushion the effects of these measures that were announced at the Federal level but with telling effects on States.
"NNPCL demanded Ijegun Egba tank owners and operators unhindered access to the tank farms where about 40 per cent of petroleum products come from. We have been able to do that by rearranging the timing of the work on the Buba Marwa Road, the dual carriageway that leads to the tank farms. The road is over 50 per cent completed. Now, you would have noticed some improvement in the supply of petroleum products. Also, we have given approval for 24 hours work at petrol stations around the State," he said.
The governor said the CBN currency exchange deadline has, no doubt, caused some dislocation, saying that Lagos is Nigeria's business and financial engine-room.
The governor said he had directed that food banks be set up in various parts of the State to cater for the vulnerable, as government would distribute food stuff to various communities.
Sanwo-Olu warned mischief makers who miht see this as an opportunity to incite violence that "this is not the way to go. I enjoin every law-abiding citizen to go about their lawful business without fear."